Forthcoming New Admiralty Charts and Publications - this week editions
New Admiralty charts and publications - this week editions
26.11.2020
British Admiralty Chart 4936 Update
The UKHO has identified an issue which has resulted in missing areas of Intertidal Green (ITT) on chart 4936. This issue has been present since the New Edition published on 28.12.2017 and will have affected all charts supplied.
A PNM has been issued in NM Week 50/20, informing users of the chart of the issue and the chart area affected
The chart will be corrected and re-released as a forthcoming Urgent New Edition. The date of this will be 31 Dec 2020, which will be annocuhed in Week 51/20 NM.
IMO - IMDG Code, 2020 Edition update

In view of the exceptional circumstances brought about by the COVID-19 virus this year, and the ensuing disruption and delay caused to the IMO meeting schedule, please note that Amendment 40-20 of the IMDG Code will become mandatory from 1 June 2022 but may be applied by Administrations in whole or in part on a voluntary basis from 1 January 2021.
This week's New Editions
Top picks from this week's latest maritime publication releases and important regulatory guidance for each title to help you decide if its requirement for your vessels.
US NOAA – Nautical Almanac
Recommended for all vessels
This 2021 will supersedes and updates the 2020 Edition on 1st Jan 2021.
IHS Markit – Ports and Terminal Guide 2021/ 22
Recommended for all vessels
The 2021-2022 Ports & Terminals Guide has over 20,500 ports and terminals included in one place for your convenience. This one-stop guide saves time and money compared to having to purchase multiple products at higher prices.

- Now covers 6,400 ports, 14,100 terminals, giving you over 20,500 ports and terminals
- 4,430 port plans with updates to over 830 plans since the last edition of the Ports & Terminals Guide
- 30,000 port service providers
- 100% Geo-referenced berths, with the CD-ROM having Google Earth capabilities to port area or individual berths. No one can match this level of expertise and critical data to assist with your navigational requirements, saving you on costs in case the details were inaccurate
- Pre-Arrival documents that will save you time for entry in every port. Potentially these documents could save ships 30 minutes to 1 hour for every port the ship calls into, covering more than the cost of one Ports & Terminals Guide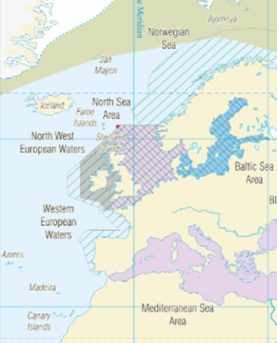 MARPOL Map 73/78
Recommended for all vessels

This concise map is regularly updated with the latest MARPOL information and amendments. The most recent changes, effective from January 2021, concerns Annex II, the discharge of Noxious Liquid Substances (NLS). A new regulation 13.7.1.4 applies to NW Europe, including the North Sea, Norwegian Sea, Baltic Sea and Irish waters.
Forthcoming New Admiralty Charts/New Edition Charts to be Published in Week 48
Chart Title

 

Chart Title

 

NE/NC

Date

PNGSIO

Papua New Guinea, North East Coast, Long Reef fo Sudest Island

NE

26.17.2020

124

International Chart Series, Netherlands Noordzeekanaal including ljmuiden, Zaandam and Amsterdam

NE

26.17.2020

530

Brazil - Southern Coast, Cabo de Sao Tomé to Rio  Grande

NE

26.17.2020

556

South America - East Coast, Tramandai to Mar del Plata

NE

26.17.2020

557

South America - East Coast, Argentina, Mar del Plata to Comodoro Rivadavia

NE

26.17.2020

1201

China - Huang Hai, Guanhe Kou to Rizhao Gang

NE

26.17.2020

1253

China - Huang Hai, Lianyungang to Qingdao Gang

NE

26.17.2020

2029

France - North Coast, ile de Bréhat to Cap Fréhel

NE

26.17.2020

2199

United Kingdom, North Channel, Northern Part

NE

26.17.2020

2268

England - South Coast, Portland Harbour

NE

26.17.2020

3281

United Kingdom, Shetland Islands, North-West Sheet

NE

26.17.2020

8124

Port Approach Guide, Chang Jiang - Baoshan, Taicang and Changshu Port

NE

26.17.2020

8125

Port Approach Guide, Shanghai

NE

26.17.2020

8126

Port Approach Guide, Chang Jiang - Inner Approaches to Shanghai

NE

26.17.2020

8127

Port Approach Guide, Chang Jiang - Outer Approaches to Shanghai

NE

26.17.2020

8216

Port Approach Guide, Zhoushan Qundao

NE

26.17.2020

AUS119

Australia - South Coast, Western Australia, Approaches to Esperance

NE

26.17.2020
New Edition Admiralty Publications to be published in Week 48
NP No.

Title

Date

Remarks

 

NP32B & e-NP32B

ADMIRALTY Sailing Directions China Sea Pilot Volume 4 (Third Edition) 2020

 ISBN No: 978-0-70-774-5770

26/11/2020

Updated to Week 35/20 (27/08/20). First updates in NM week 48/20. This Edition supersedes NP32B (Second Edition) 2019 which is cancelled

NP85

ADMIRALTY List of Lights and Fog Signals Volume M First Edition 2020 Western Side of North Pacific Ocean Excluding Western Parts of Philippine, East China and Yellow Seas

 ISBN No: 978-0-70-772-4201

26/11/2020

Updated to NM Week 43/20 (07/10/20) First updates in NM week 48/20 Volume M 2019/20 is cancelled

 

NP208

ADMIRALTY Tide Tables South East Atlantic Ocean, West Africa and Mediterranean (Including Tidal Stream Tables) Volume 8 2021

ISBN No: 978-0-70-772-2368

26/11/2020

-

NP281(2)

ADMIRALTY List of Radio Signals Maritime Radio Stations The Americas, Far East and Oceania

ISBN No: 978-0-70-774-4995

26/11/2020

Updated to Week 41/20 (08/10/20). First updates in NM week 48/20. The 2019/20 Edition of NP281(2) is cancelled
 https://voyagerww.com/